World Theatre Day Online Celebration, 27 March 2022
World Theatre Day Online Celebration, 27 March 2022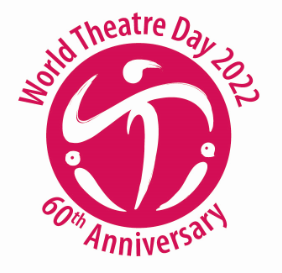 The International Theatre Institute ITI is pleased to announce that the World Theatre Day 2022 main celebration will happen on 27 March 2022 online, organized by Centres and the General Secretariat of ITI.
After being celebrated for 59 years, World Theatre Day will have its 60th Anniversary in 2022. From 1962 to today, 60 significant theatre figures contributed their thoughts on theatre, culture, and peace through World Theatre Day Messages. As a result, World Theatre Day is celebrated globally to remind the people of the great power that theatre can bring about.
This year, World Theatre Day celebration will focus on the young, the next generation, the emerging artists, who have been a strong special focus of ITI in the recent past. Through this 60-year-old ITI flagship event, ITI wishes to offer the next generation of artists and art professionals a platform to exchange ideas and present themselves to the world.
Therefore, ITI will invite emerging artists from different continents to participate and present themselves during this online celebration through videos. The Online Celebration video will be available on 27 March.
Follow on WorldTheatreDay
https://www.world-theatre-day.org/mainevent.html
https://www.world-theatre-day.org/emergingartists.html
.